MOO TO EWE's RESIDENTS...
Hope was discovered alone, barely surviving on the side of the road. Hope and Ray would have been exploited for their 'meat' if not for a passer-by rescuing them and bringing them here. We are so glad to have provided them with a forever home, and we could not have had better first residents of Moo to Ewe!
Ray was rescued just two weeks later in a similar, dire situation to Hope in need of love and care. Hope and Ray are enjoying their lives side by side, grazing and exploring the property with Howie!

Howie was rescued when he was just weeks old and in dire straights without his mother and her milk. Tender love and care helped him through such a critical stage of life. He is now thriving and still growing! Howie loves back scratches and often runs around the paddock in joy.
An exploited Dairy Cow for eight years, Moo Moo had a life of misery and was considered waste once she wasn't producing enough milk after being artificially impregnated eight times. A loving couple saved her and created a safe oasis for her for ten years. Now, Moo Moo is at her forever home here at Moo to Ewe. She has become friends with the young ones, being a bit softer with their playing compared to Hope, Ray and Howie. As Moo Moo is struggling with arthritis, Tassie gives her a helping push every once in a while!
Kernel Almond, our 'Pretty Boy'. Rescued from a dairy farm near Taree, NSW. Saved from his inevitably short life, inflicted by dairy farmers, Kernel can now live safely and happily with friends. Kernel has a kind soul and friendly to all…. when the hay and pellets aren't around!
This famous biscuit-resembling good-looking gal was rescued alongside her best friend Kernel. Being a little bit of a bossy boots, Oreo usually spends most of her time with Hope, Ray and Howie, who can keep her in line.
Our bubbly & confident Fresian Heifer. Best friend of Tassie. She loves a cuddle and a smooch! Daisy doesn't back down for any of her friends to steal her food!
Our Handsome Bobby Calf. Rescued with Daisy and our passed friend Barney from a farm in Taree. Tassie loves to try and fit in with the cool kids Kernel and Oreo, however doesn't have as much pluck, being a gentle and kind-hearted boy. He's also a great help to Moo Moo, our older cow that is a little less physically able.
Koda was rescued by a trainee vet on a placement at a farm where she fell in love with Koda and Cleo, taking both of them home with her. The farm battled a case of scours, a type of diarrhoea. As a young calf Cleo was not strong enough to survive the disease, sadly. Though Koda managed to get through it with a lot of love and care. At Moo to Ewe, Koda is a strong Bobby calf with a kick in his step and a fondness for hanging out with Daisy and Tassie!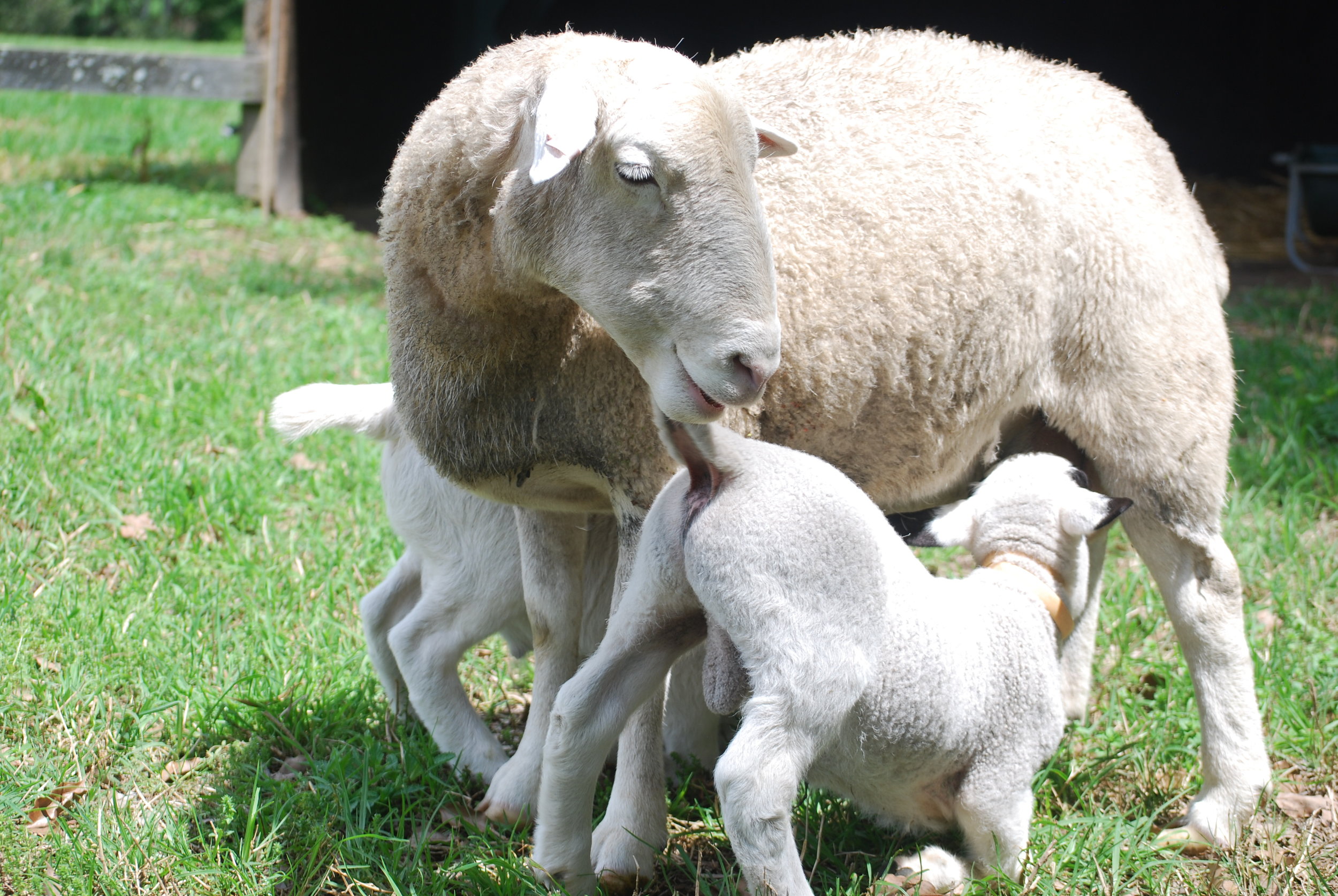 Our loudest resident! Rose demands to be heard. Though, her voice will not be silenced here, at her new oasis. Rose has lived a rough life, from the age of one, she was forcefully impregnated continuously within five years, having her babies taken away year after year. Thankfully, now Rose will live out her days with her twin boys by her side, Bud and Bloom.
Now they have been rescued, this darling family can grow together, bound joyously side-by-side. Whilst Rose will be able to watch her boys grow without the worry of ever being impregnated and her babies stolen again.
Marci and Sally are twin dorper lambs. They were hand raised from three weeks old by their previous owners, who could not continue to keep them. Luckily, they did not want Marci and Sally to become food, hence their arrival at Moo to Ewe! Thankfully they hold their own amongst Rose, Bud and Bloom who are unforgiving when dinner comes out.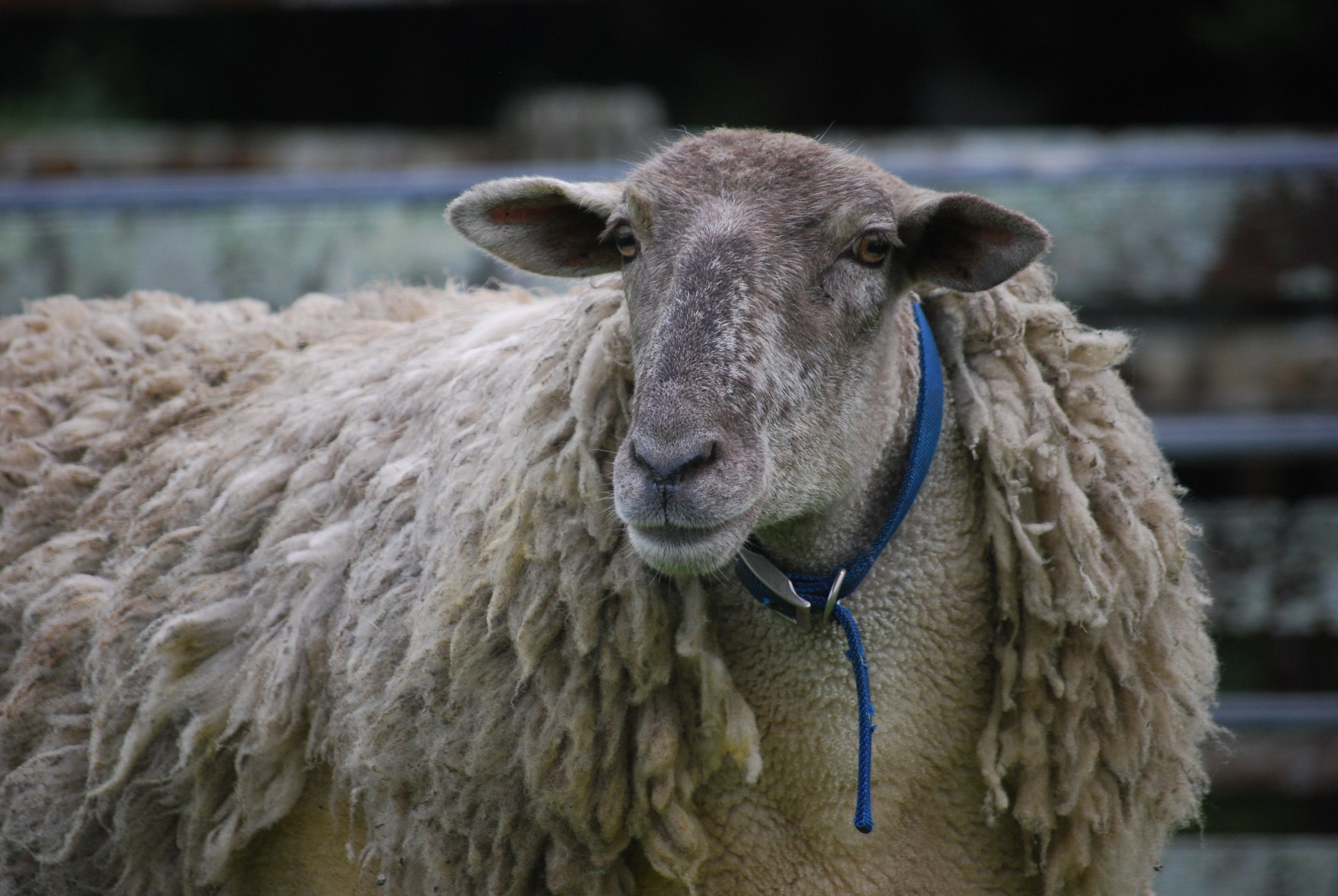 Lentil was in need of a home after his owner had exhausted all options in rehoming him. Thankfully, Animal Welfare League NSW rescued him and reached out to us to arrange his rehoming. Lentil is a man of solitude, however he is slowly becoming a close ally of Lizzy's.
Lizzy has settled in well with sanctuary resident sheep and alpacas. She was rescued from a life of neglect. She was found wandering the roads with a badly infected udder, a result of excessive milking and abuse. Whilst here, we have been able to treat her with a mammectomy, precluding her from having any more trouble with infection in her udder! It was a long round at the vet, however we are glad she's home, safe and healthy. You may see Lizzy wandering around the property when we have private tours, as she loves to be around humans!
Tahini and Tamari are the shaggy shepherds of the resident sheep. The alpacas provide important security and companionship for all of the sanctuary's resident sheep and lambs. Beware of Tahini! He is a fierce protector of the sheep and is not afraid to pull out the ninja moves if he thinks they are under threat. Our suggestion is to move slowly and carefully!
Missy is caring mother to male goat Rustus. They now live peaceful, joyful lives on the sanctuary with their best friend Sunday. Rustus loves to use his horns to play with anyone game enough to take him on, whilst Missy enjoys sleeping in the holes that Sunday has dug, admiring his handy-work.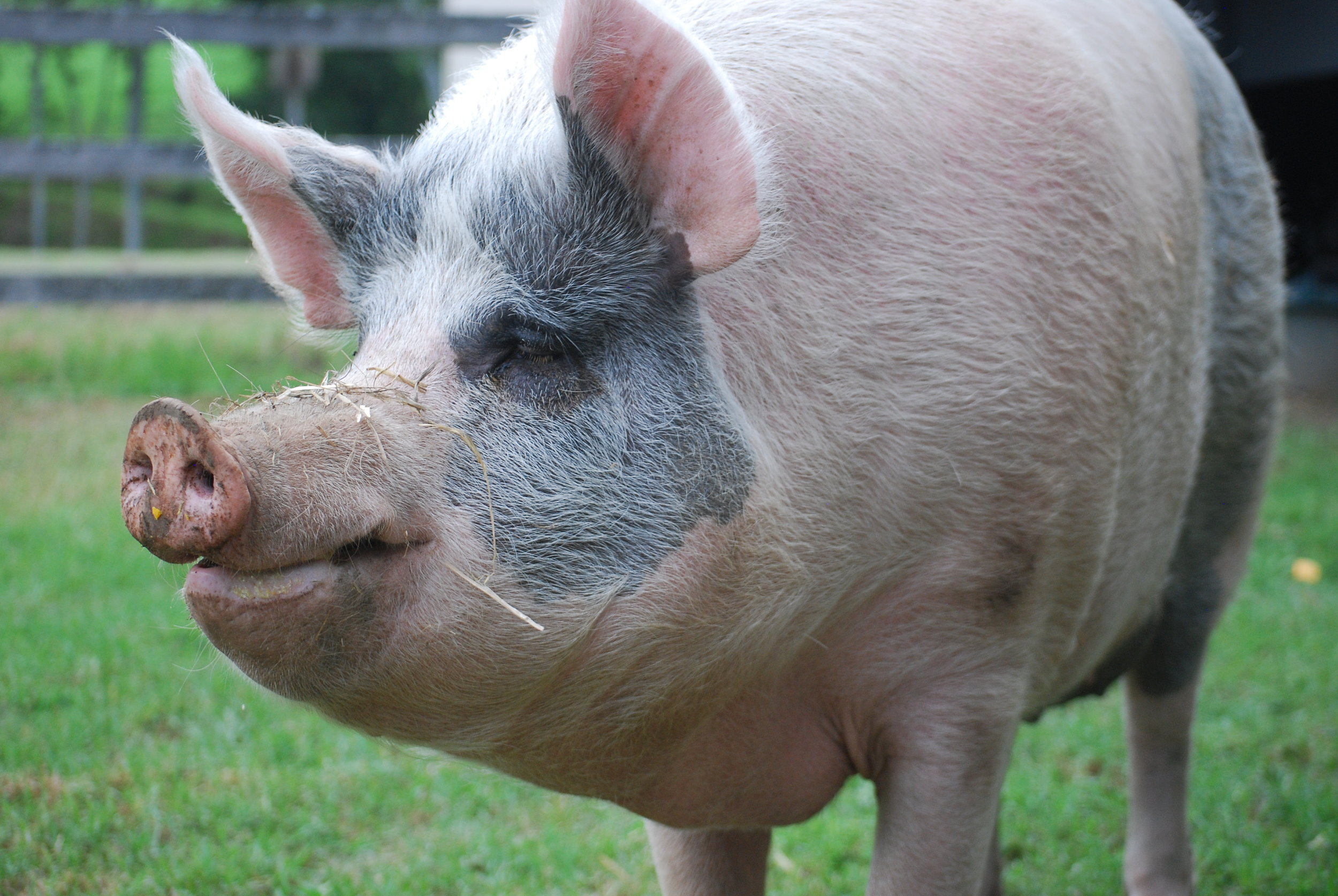 Sunday lives in paradise along with his mates Missy and Rustus. Sunday devours watermelons, pumpkins, apples and sweet potatoes. He loves digging holes and harvesting pumpkins and watermelons in his spare time. He has re-lanscaped the paddock on which he lives, making it a sort of playground for all!
Bo, Bowie, Bo Bo. How ever you would like to nickmame him, he is an adorable, full of energy piggie. Bo was bred to be little and cute for kids and adults alike to fawn over at a petting zoo. However, once new babies arrived he was considered waste. Thankfully, Bo has found a loving home here where he is far from being exploited like a toy again.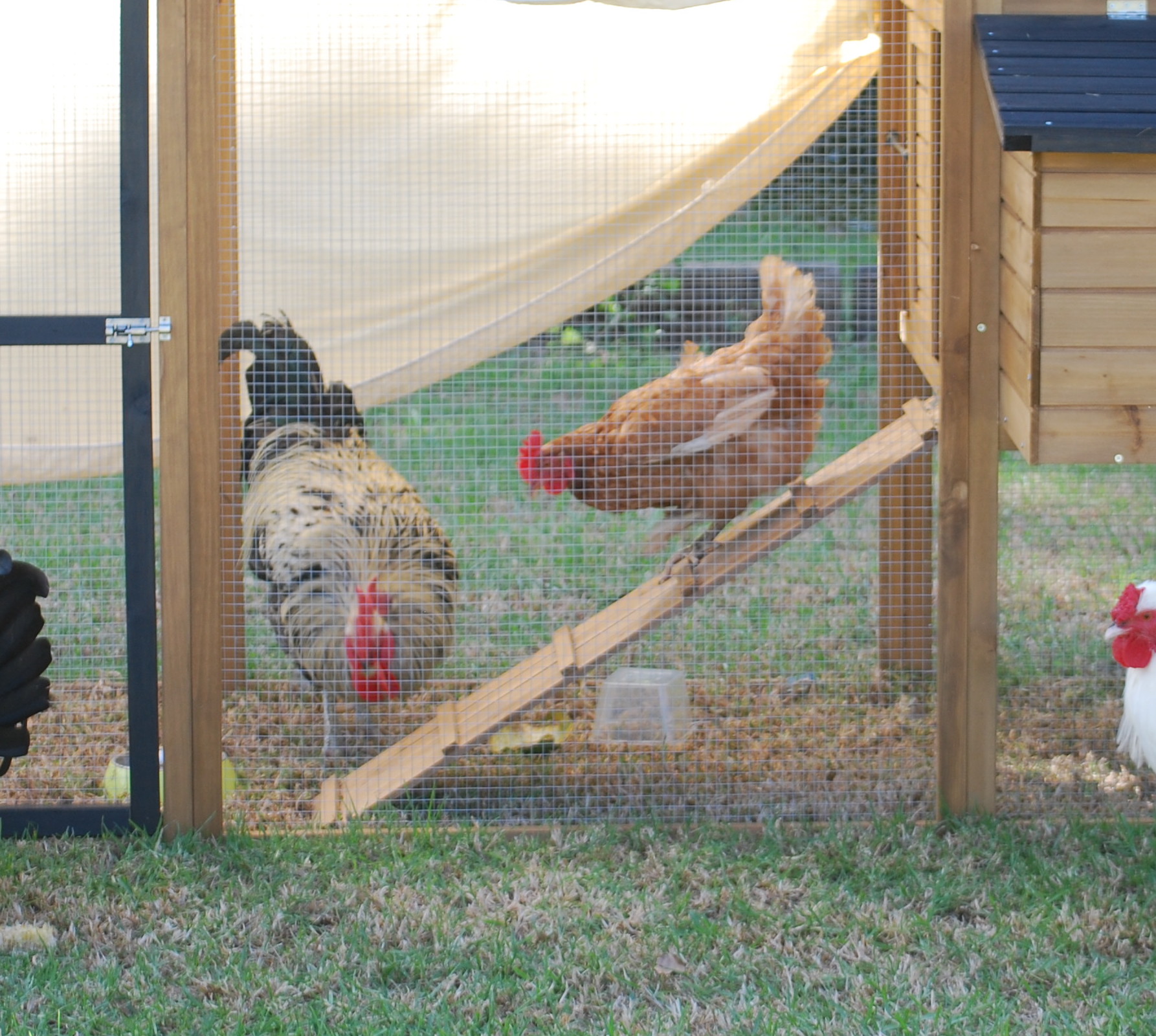 Fabio, Ruby & Diamond now live happily with the other rescued hens here at the sanctuary. Fabio rules the roost amongst the roosters and is quite the gentleman amidst the lady hens!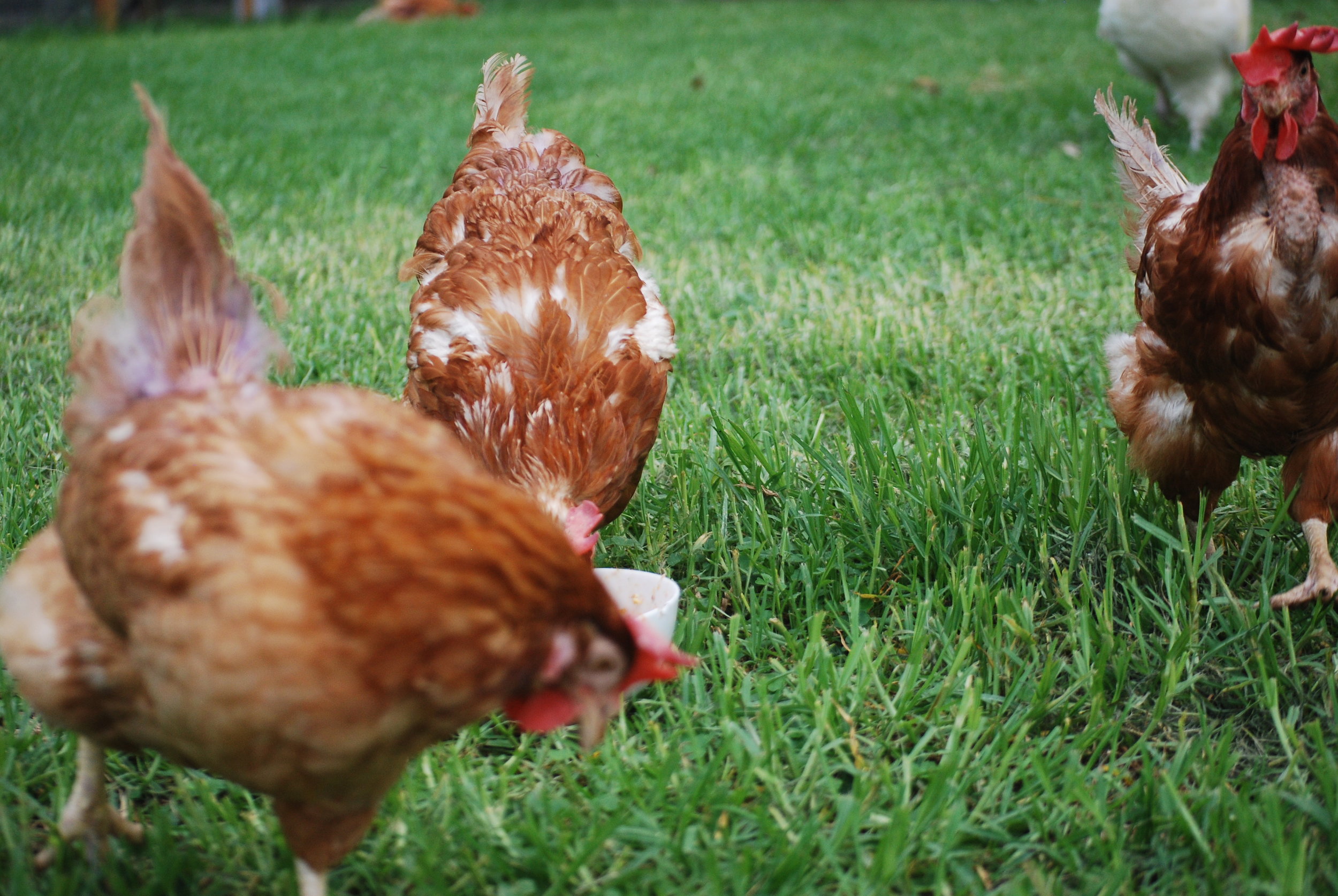 Doreen, Freda, Millie & Myrtle
These four liberated battery hens range the large orchard and love dust-bathing under the fruit trees. They were so lucky to have been rescued by the inspirational Catherine of NSW Hen Rescue. They live amongst Roosters Snowy and Cornelius.
First Roosters on the Farm. Rescued from the side of the road, Cornelius and Snowy are now going to have a stress-free life of pecking and dancing!
Sugar and Spice are Pekin ducks, that were given to us from a desperate family, living in a house where the only access to water for them was a bath. They were given Sugar and Spice by a family friend who took their kids to a Fair (a fair that had ducks and chicks for sale) and brought the ducks as family pets for them without checking with the parents beforehand! Understandably, they needed to re-home them to a place where ducks can be ducks! Sugar and Spice are now acclimatising to their natural habitat slowly. They are lovely friends, and very kind natured!
Our longest resident, Harley, loves to run and play with Nala on the property.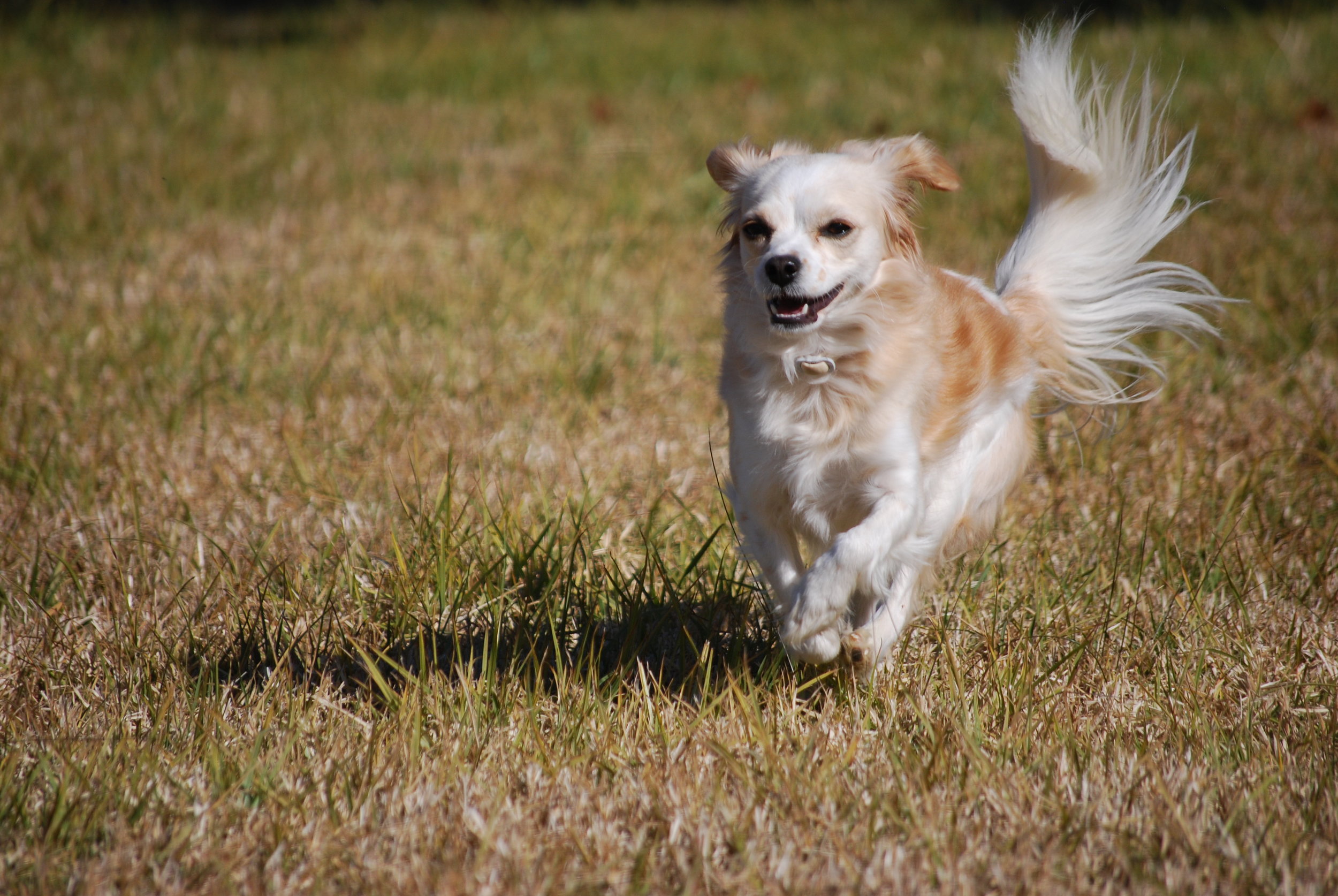 From a Rescue Shelter, Nala lives up to her name. She is a true hunter, and loyal friend to Harley.